DatingWomenOver50 Review

I was kind of interested in reviewing DatingWomenOver50 because I've always had a thing for older women, and whenever I'm reviewing a good dating site I often consider going out with women in their thirties and forties. Of course, since there are so many younger women my own age, I rarely get a chance to, but it's always been something I've been eager to do. Then I thought of my Uncle Zeek. He's in his mid-60′s, single, and always telling me how he doesn't know where to meet women his age. So, I called him up and asked him if he'd like to do this review for me. Of course he was willing to do it, he told me, probably because his dad, my grampa had such a good time when I asked him to review MatureLoverSearch a while back. So, without further introduction, let me hand the reins over to Uncle Zeek. After this sentence, everything is in his own words, unedited and uncensored!
Hey there readers! My name is Zeek (Ezekiel, actually), and I'm here to tell you all about my month trying out the site DatingWomenOver50 for my nephew Michael. I have never been married, but was in a series of serious, monogamous, long term relationships throughout my whole adult life. None of them were ever Miss Right, so I never married any of them, but they were all lovely, loving women. I have been in a bit of a dating rut lately, like Mike said earlier – I just don't know where to meet women my age. I know online dating works wonders for people, so I was pretty anxious to try it out myself. So, let's get to the review!
ABOUT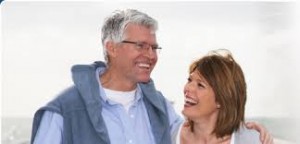 When you first go to the site, you are presented with the sign in page, and a few nice pictures of older couples looking blissfully happy in their new found relationship. having been around the block a few times, I know that you can't believe everything you see, so I wasn't convinced that those couples were real couples from the site or just models the site had hired to fool gullible seniors. My guess is it's the latter case. I signed up for their free membership (even though Mike had told me that I had a fifty dollar budget to work with for the site – but I figured if it's free, then I'd put that fifty to good use at the track – but I digress), and after a ten minute session of plugging in my information into their system, I was off to the races.
I was brought to a page where the site listed all the women in my area that they figured would be good matches for me. I started browsing through each of their pages and made notes on the ones I thought were particularly lovely or compatible with me. While I was doing this I saw that my inbox had a message in it. When I tried to open it, the site informed me that my free membership was limited and to read messages that women sent to me, I had to upgrade to a paid membership. This kind of made me mad, because they had made such a big deal of the fact the site was free. I was also mad because I had already called my bookie and laid down the fifty on the Yankees who were playing that night. So, I checked out the prices for the site, and it basically costs this:
PRICES
$29.95 for one month
$59.95 for 3 months
$95.95 for 6 months
With the one month Gold Membership, I now had access to the site's full set of features. They include access to a matchmaking counsellor, pages with date ideas and tips, live customer support, the email feature, the blog and forums, a news and videos section, and the search pages.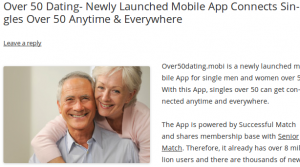 DRAWBACKS
The site has a few problems that I feel like I should mention since we seniors don't have a lot of disposable income to throw around, and you don't want to plunk down thirty backs a month if the service isn't that great. And unfortunately, this one isn't that great. The first problem is the way they trick you into filling out their free membership when they know the whole time you're going to have to upgrade. After all, you're going to have to send emails to use the service effectively, so having your free membership not be able to do that is a bit of a scam. Secondly, there aren't very many members on the site, at least in my city. When my search pages came up, there were only a total of about fifty women that kept coming up with each search. And another thing that bothered me was that the women weren't necessarily all very compatible with me. I think the site has too few members, so when they fill your search page up, they just choose people that live in the area, because they don't have enough people to match you with people whose personalities are actually compatible. This meant that a lot of the women I went out on dates with weren't very compatible with me, and the first dates was ultimately going to be the only date.
REVIEW CONCLUSIONS
I was on the site for about an hour each night trying to set up dates. I sent out a total of 78 emails to unique women, and received emails back from 71 of them. I had 10 dates over the whole month, and a second date with two of the women. So, in conclusion, I spent a lot of money to meet two women, neither of which is Miss Right. I think this site is below average, in terms of quality and matchmaking. I also think it is seriously under populated. If I had to give this a rating out of five stars, I would give it two stars. It's not the worst thing out there, but it's definitely got a lot of room for improvement!