Fling Review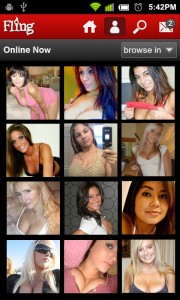 I was pretty happy when I saw that Fling was next up in my list of adult dating sites to review. After doing some initial research on the site, I saw that for the most part, if you want it to be, the site is free. This is always a good thing to find out when you're about to review a hookup site, because you can then channel what you would have spent on a monthly membership fee on nice little sexual frills for the sex date. New toys or exotic condoms or costumes. Plus, if you haven't been to a sex toy shop lately, most of them have hot customer helpers, so flirting while surrounded by giant dildos is always fun.
About
Fling describes itself as a website that not only cater to those horny men and women out there looking for some no strings attached sex hookups, but also wants people to know that if they're looking for casual dating, they do that too. Since I had the choice of either using the site for sex or just dating, I chose sex. Why wouldn't I? After all, you get the hot sex, and THEN if the person is the kind that you think you'd also like to date, then you can ask. If they say yes, great. If they say no, at least you got the sex. Play it smart.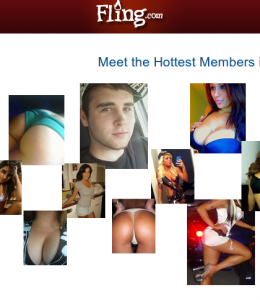 I looked around Fling to see what I could learn about it while I started with my free membership. (There is a paid membership option too, but we'll get into that in a bit). The free membership gives you everything you need for the site, as long as your needs are basic. It took about ten minutes to fill in my membership information, and then I was taken to my individual search page where I could see all the local women who were looking to get some casual sex. I was happy to see that the site differentiated the sex seekers from the dating seekers for me, because having to do that myself would have been a pain!
There were lots and lots of foxy chicks to surf through and look through their profiles. I started contacting a couple women, and then read that with the free membership you're only allowed to contact five people a day. That meant that I had to really look thoroughly through the ladies I was interested in, and contacted the hottest five. The next day, I chose the next hottest five, and so on. From the very first night I started getting responses, and had a sex rendezvous scheduled for the second night. A good start, to be sure!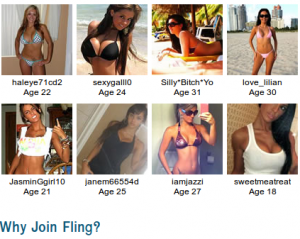 Features
With the free membership you can contact five people a day, like I said, as well as post pictures of yourself on your profile (as racy as you want). You can use their search function that lets you specify what you're looking for in a perspective sexual partner (age, fetishes, etc.). There is video chatting and insta-chatting, as well as a pretty good mobile app.
If you decide that you want to upgrade to either the silver or gold membership options, you get all the free membership stuff, plus some nice goodies. I stuck with the freebie myself, but with a little research on your behalf, I found out what you get if you shell out a little dough. The silver membership gets you a virtual black book, which is basically an online address book where you store your favourite profiles.You also get access to the chat rooms and the 3 month money back guarantee. If you don't get lucky in ninety days, you get your fee back.
The gold membership gets you everything in the free and silver membership, plus gives you featured on people's top search results. This means it's more likely you'll be noticed. You also get the functionality of allowing other free membership members email you (even if it goes above and beyond their five emails a day).
Prices
Basic Membership:
Silver Membership:
$4.95 for three days
$24.95 for one month
$49.95 for three months
Gold Membership:
$9.95 for one week
$34.95 for one month
$59.95 for three months
Drawbacks
The only drawback I found when using Fling was that in and amongst the babes in my search pages were also some women who were obviously not there to date, but to get guys to come check out their cam vids and channels. While some people may find this terrible, I didn't mind it too much. After all, when I was waiting for the women I had contacted that day to get back to me, why not head over to a sexy young hottie's cam show to see her shake what god has blessed her with. Some people don't like the fact that these girls are on there not to hook up, but to get traffic for their web shows, but I think that it's ok in the grand scheme of things.

Review Conclusions
During the thirty day period I used Fling, I contact my maximum five women a day, for a total of 150 women. I received replies from 89 of those, and ended up chatting with 77 of them. I scheduled 24 sex dates over the month, of which, 20 ended up coming to fruition. For a site that is completely free (if you put your mind to staying within the right parameters), this is a very respectable haul. Granted, there were some things about the free aspect of the site that were limiting, and so if you've got a little cash to spend, I recommend you use a site like EroticAffairs. However, I should mention that Fling has some of the cutest young honeys I've seen on an adult dating website for a while. I'm not sure if it's a bigger hit with the college aged girls out there, but I wasn't complaining. Young, fit, and looking to learn a thing or two from horny guys like me! I did sneak a few MILFs in there, too, though!