FindLove Review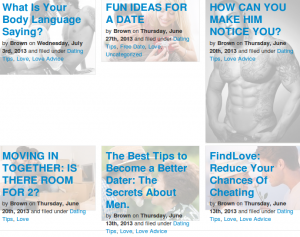 I really liked reviewing FindLove because not only is it the best new dating site around, but it also happens to be 100% FREE! I've reviewed a lot of dating sites in my day, and a lot of the free ones are just terrible. Sites like Plenty of Fish and the like seem to be a great deal because they're free, but because they've been around so long, the fact that there are so many abandoned and fake profiles makes the sites useless. Plus, generally, they've usually got a lot of prostitutes on there looking to increase their clientelle. Because FindLove is new and free, it doesn't have these problems! However, because it is free, it's already got a huge membership going. In other words, it's got all the pros of a free dating site, and none of the cons, because it is so new!
ABOUT
When you first go onto FindLove, you're immediately struck with how much cool stuff the site has compared to other comparable sites, even though it doesn't cost anything. Plus, it's not one of those dating sites that start off purporting to be free, but once you've set up your profile, they tell you to really sue the site effectively, you've got to pay for one of their upgraded memberships. This one is free from top to bottom, and the features and functionality of the site is great! You'd expect that they must generate their income through ads or sponsorships, but there are no ads anywhere. I'm not sure how they get the dough to run the site, but I'm not complaining! On the homepage, you're invited to jump right into the dating scene by creating your profile. As well, there are lots of dating articles and blogs to read and enjoy. I read quite a few of these articles over the month I reviewed the site and went out on dates I got through the site, and they are all really interesting and helpful. There's articles suggesting dates on a budget, and tips for success online dating. Although a lot of the info was redundant for me because I've been doing it so long, for the noob online dater, it is invaluable. Plus, if you are like me, and have a lot of experience dating online, there are still some surprising tips that can help you. They sure helped me!

Once I finished my profile creation (which took about ten minutes) I was directed to the site's search page. They had hundreds of local women that were looking to meet men for dating. I started browsing through the ladies' profiles, and found that the matchmaking algorithm the site has is pretty good. The women all had common interests, and seemed to be just the sort of ladies I look for when it comes to dating. I started emailing them using the site's email feature, and almost right away started getting responses from a few of the girls. One was free that night, so I ended up getting a first date the first night I tried the site! Amazing!
DATING FEATURES
In addition to the free email and search features, as well as the articles on the site, FindLove has a ton of other cool things going for it. You can use their webcam feature if you and the person you're chatting with both want a live video interaction. This is great, because it gives you a chance to see if the person's profile pic is anything like the reality. Usually this isn't an issue, but every now and then I've gotten together with a woman who must have used their high school picture, and photoshoppped it quite a bit, because when we got together for the date, I almost didn't recognize her. The site also had a good online forum and group discussion board page which was a fun place to go and participate in whatever the interesting topic of the day might be. Plus, it was a good place to see women's opinions on things, and contact the ones that were on the same page as I am, for possible dating.
PRICES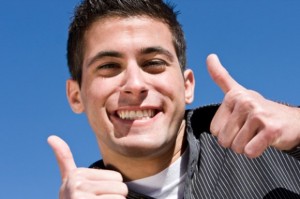 Like I said before, this site is incredible because it is absolutely FREE! There are no upgrades necessary EVER!
See how happy the guy on the left there is? Yeah – that's how I felt when I found out I didn't have to shell out any dough for this site! I normally set aside fifty bucks for each site review, because that's generally how much a monthly membership costs for the good sites out there. But I got to spend that fifty bucks on the dates instead!
DRAWBACKS
When I started using this site, I figured that since it was new, there would be only a limited amount of members online that wanted to date. Boy, was I wrong! I guess good news travels fast, and a free, quality dating site gets a lot of attention quickly. The search pages I was presented with, filled with local women, had hundreds and hundreds of ladies for me to choose from. And, like I said before, because the site is new, there weren't any fake or abandoned profiles yet. Almost every woman I contacted responded to me. If there is one drawback, it's that there are a lot of men looking for dates, so sometimes it took a while for the women to respond. But if you make your profile cool, and act naturally, they'll get back to you.
REVIEW CONCLUSION
Over the month I used this site, I contacted 109 women, and got responses from 95 of them. Of those 95, I set up dates with 33 of the ones I found most interesting, compatible, and attractive. Only one of the 33 was a no-show, and she explained that she had a flood in her basement and couldn't get away. Of the 32 other women, six were especially great and I'll see them again. So, in one month, I met 32 girls, and  6 that were possible long-term relationship material. This is an excellent return on the effort, and it was all FREE!