How Google And FaceBook Can Reveal That Your Partner Is Cheating On You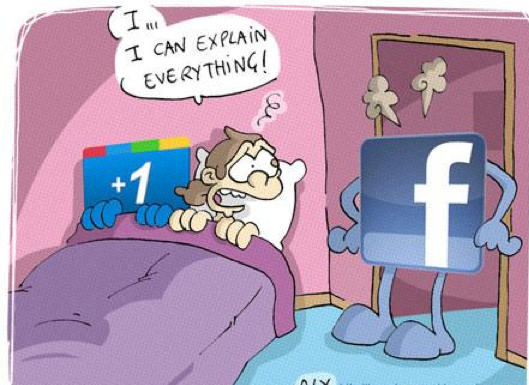 According to an online dating study, 30 percent of affairs started from online and email interactions and now in 2013 the numbers have doubled and do you want to know why that is?
It's because more and more people are becoming more well-versed with how to hide their inappropriate interactions with others on their social media networks.
Sure, people have become a little more clever about hiding their dirt when in a relationship. They erase their browser history, make sure to log out of their accounts and rely on private and direct messages on Twitter to keep their dirty secrets hidden.
However, a lot of people are still under the assumption that they can somehow hide their sneaky indiscretions and are still in denial that whatever you put online can't be traced right back to them. (Naive fools.)
And that is why we have Google and Facebook as our  c*ckblocking private detectives and if you know how to look for the signs, there are very easy ways to find out if your partner is cheating on you with a quick google search and Facebook session.
Step # 1: Type In Social Network Names And Rely On Google AutoComplete
Some people aren't aware that just because you erase your browser history, it doesn't mean it will delete Google AutoComplete in their Google search engine. If you think your significant other is cheating on you with a particular person, all I suggest is that you type in "Twitter," "Facebook," or "Instagram" in Google. Â Typically if your partner is cheating on you with an ex or a co-worker, they would have spent a good time on Google cyberstalking them first. In this case, all I suggest is you type in social network names. If they were searching for them, you will see something like this "Twitter [fill in the blank of the douchebag or bitch your lover is cheating on.] Â Remember, SEO is not only important in your professional life, it also does wonders for your love life as well.
Step #2: Use Reverse Google Image Search Now
This may be the most important tip because if your partner is cheating on you, they will get caught red-handed when you use this easy tactic. Â Most people do not realize that you can in fact use reverse google image search to catch them in the act. Â Download about five of your partner's current or best Facebook or Twitter profile photos and use the reverse google image search on Google. Â If your partner has been using any adult dating sites like PerfectMatch.com or Sexsearch.com, you will see it pop up on the google image search for sure. This is a good way to find out mainly because a lot of people somehow think that a unique username will protect their identity. HA! Â Also, if your partner is hiding a social media account from you, this is a great way to find out too.
Step #3: Check To See If Their FB Profile Seems Less Detailed
A while back, I wrote an article about how your FaceBook Profile page may hurt your sex and love life and one of the telltale signs I listed was if you limited your partner access to your profile.  I can't tell you how obvious this move is. If all of a sudden you can't see certain pictures and their profile details seem more sparse then usual, it's because they are hiding activity from you and probably wanting to hide the fact that the other person they're interested in is liking all of their statuses and photos.
Step #4: Find Out If They Are Hiding Their Status On Their FB Profile
If you're a masochist and still believe in posting the status of your relationship for all to see, then this step will pertain to you foolish lovers out there. If you suspect your partner is cheating, one of the things that you should do is ask your friend to check your significant other's relationship status.  Remember that now FaceBook can customize how someone sees your status. Your significant other may have set  their relationship status  on to you, but they can turn it off for others. If your friend(s) report that they couldn't see a relationship status and you still can, you are being duped, my friend.
So that is my list of ways you can find out if your girlfriend or boyfriend is cheating on you by using Google and FaceBook Tactics. If you have any more I am missing, make sure to share below!