New Online Dating Survival Rules Guide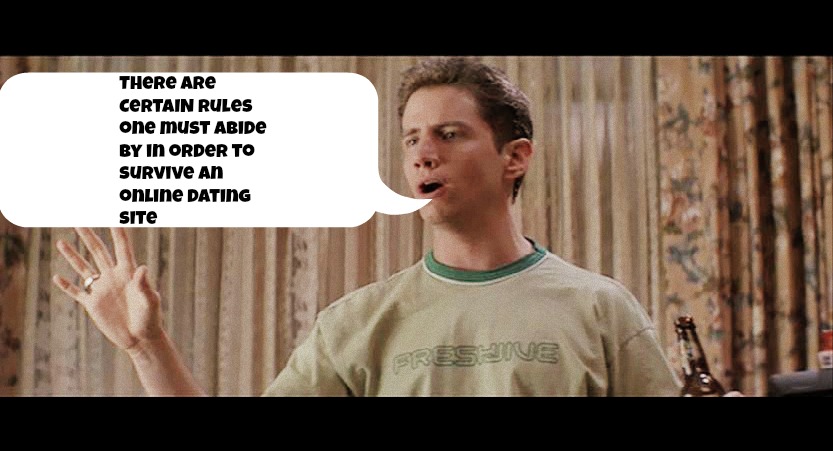 Hey all! Jimmy Jacob here!
Remember when online dating was only for the desperate and the ugly? Â Ten years ago, online dating was considered taboo and now anyone who is single (and married in some cases) with a smartphone is using dating sites as openly and as frequently as they check their FaceBook newsfeeds. (And that's a lot!)
It may sound relieving to know that finding dates on internet personals ads does not leave you open to public mockery anymore, however it doesn't mean that going online to find dates is that much easier–in fact, it's much more challenging than it has ever been before.
Before, all it took for you to get dates was a hot picture of yourself but now there are certain unwritten rules in the online dating world and if you don't follow them, you will surely get frustrated from lacks of online hookups.
So to paraphrase Mr. Randy Meeks from the Scream Franchise, there are certain rules that one must abide by in order to survive—an online dating site:
Rule #1 : Join Niche Sites If You're Looking For A Particular Partner
Before everyone was forced to use mainstream dating sites like eHarmony or Perfectmatch.com to meet like-minded singles. Although, a big problem with those sites is that it makes it that much harder to find a similar match when you're into very unique and different things. (Kind way of saying "geeky" things.) In a recent dating study, over 15 million singles are frequently niche dating sites instead of mainstream ones and finding success.  If you're a film buff, you can find an avid movie geek on the dating site LoveAtTheMovies.com and if you're a music aficionado, you can find the one who makes your heart sing (cheesy, I know) on Tastebuds.FM.  Even if you're not a super geek but a "Superfreak," you can hook up on adult dating sites like Social Sex to have affairs and booty calls.  So if you know what you want, then make sure to go on these sites first.
Rule #2: You're Sexy Even If You
DON'T

Know It

If you're frequenting dating sites, there is one thing you want and that is for someone to fill in a void in your personal life. Â Whether you're getting over a bad breakup/divorce or you're tired of being called the "honorary virgin" in your social circle, you are just looking for someone to make you feel good. Â The problem is when most people join dating sites it's because they have lost all confidence in themselves and are taking the easier route in order to find a match. Â One of the most important rules is that you have to treat your online profile just like you would treat a blind date. First impressions are key and you have to appear confident online even before shacking up in person. Â So if you post a creepy web cam pic of yourself rocking your break up beard and your profile is riddled with sad face emoticons, you won't be impressing anyone. Â Make sure to put up a good picture of yourself and make sure to keep people guessing. Â Leave a little mystery and morbid curiosity will always win.
Rule # 3: Hotness Always Prevails….To A Certain Degree
Sorry to have to say this, but online dating has no place for unattractive people. It's a cold, hard digital world for those who just can't match up to the good-looking people. Â According to a dating study conducted by OkTrends.com, an attractive woman will receive 25 more times as many personal messages to her profile than an unattractive woman would. This doesn't surprise because when it comes to men, we're visual. Â A picture always is the first thing and the last thing we look at when we're surfing available hotties online. Â Now the good news is that beauty truly is in the eye of the beholder. Â I myself would not be impressed by a bleached blonde girl showing off her #tittytuesday worthy tits. Â Sure those kind of girls may get 25 more times the hits than a petite brunette with a classy smile, however I'm a true believer that big boobs only attract bigger boobs.
Rule # 4: Don't Get Catfished
The online dating world is flourishing and because of that there are many companies that like to reap the benefits of that through fraudulent activity. There are many dating sites that are simply created in order to extract money from gullible and naive single people only looking to hookup.  Sites like Justhookup.com and HowAboutWe.com are prime examples of online dating scams as their sites are full of fake profiles and bots.  Make sure to read reviews and take your friends' advice when it comes to picking the perfect hookup site.
Rule # 5: Don't Get Too Cocky Or Carried Away
One of the most detrimental things about the digital dating world is that sometimes it gives you too many options. Â Now it's great that you have 2 dates in one week. You shouldn't have to feel like you need to tie yourself down right away. But then there should always be a time when you should say no and not accept dates—especially if you're into one of the people you're already dating. Â And why do you think I'm discouraging this behavior, you may be wondering? It's because we live in the age of social media and nothing is safe now. A complete stranger can have as much access to your personal social networks as your best friends. All it takes for major chaos in your personal life is a jaded person you dated to tag you online in a status saying you're a slut or douchebag. Â And remember, the more people you date online, the bigger your chances are of meeting a complete nut job at least once.
So those are my rules! What are yours? Let me know in the comment section below!